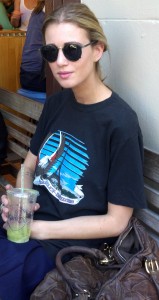 It's Allyson Shiffman's third week as an East Village resident and the flaxen-haired Canadian has a plan. Sort of.  The 22-year-old graduate student moved from Toronto to attend New York University's Magazine Journalism program; the first step toward making her mark on the world of art and fashion. Add to that her new internship with Bullett, an edgy art and culture quarterly, which has already led to party coverage and a brief run in with Kim Kardashian. That's step two.
IN THE BEGINNING
I was born in Toronto and spent most of my life living there. I went to Western, but I took a specialized business program called Richard Ivy, and it was pretty boring. I realized quite quickly that I didn't want to be in finance or consulting.
CHANGE OF SCENERY
I did my last semester abroad, in Stockholm, Sweden, and I met the editor of a London-based fashion magazine called Exit, and he discovered my blog that I was keeping as I was traveling. He asked me to write a couple of articles for him and I've been writing for him ever since. He really prompted me to pursue a career in journalism and I thought that NYU was definitely the next step. My interest is definitely fashion and culture, like Interview or V or W.
THE BLACK SHEEP
My father is a dermatologist, and my mom actually works for him. I have two much much older brothers and they are a psychologist and a computer scientist. Everyone's very professional. It's kind of an ongoing joke that I'm like the black sheep of the family. And that I'm never going to make a living following my dreams, but they're very supportive and they're really proud of me and everything I've done even in the short time I've been here. I'm definitely fortunate to have a family that's behind what I'm doing.
BIG CITY
[New York] is definitely the best place in the world to study journalism because everything is here. Every publication that I want to work for is based here. People like to say that Toronto is like the New York of Canada. So not true. I'll stay in the East Village probably as long as I can afford it. Then I will move to Brooklyn.
EXPECT THE UNEXPECTED
I like the idea of waking up every morning and not knowing what my day's going to hold, or who I'm going to meet. And the unfamiliarity is definitely nice because in Toronto I kind of knew it a little too well.
O, CANADIANS
I think a lot of Canadians move out here and they don't really have their eye on the fact that they might have to leave, because if we don't get a job, we'll have to leave the country. I'm just keeping that in the back of my head, that my time here is kind of precious and limited, and making the most of every day.
PLAN B
I'll either have to get a job or get married.