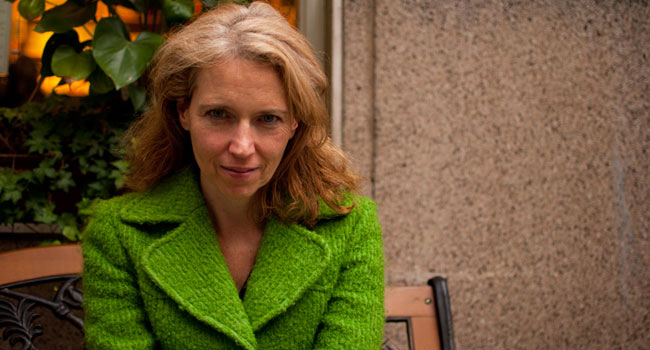 The final stretch of the ING New York City Marathon was still fully festooned with orange flags when Mary Elizabeth Williams ran into Central Park on Saturday, determined to at least complete the last half of the race. There were other runners with the same idea, but the stands were clear of cheering masses, no encouraging throngs in sight. There was still a finish line, however, though it was fenced off. Williams had worked hard and here she was approaching her blue-and-orange prize. "I had been thinking what it would feel like to get to that finish line, see that finish line, and there it was in a way that none of us could ever have imagined." She said. "There was the finish line and nobody could cross it." 
The day before, with major swaths of the city ravaged and millions still reeling in the wake Hurricane Sandy, Mayor Michael Bloomberg declared the race canceled, for the first time in its 70-year history. 
Williams, a 46-year-old writer with red-headed pluck and a contagious laugh that resonates throughout her narrow frame, knew that Sunday, November 4th would be a day she'd always remember. But if life had taught her anything it was that it takes only an instant for things to change. She had raised $4000 for Gilda's Club, a community of cancer support groups, which Williams herself has attended since her diagnosis of melanoma two years ago. Not content to remember the day as the Marathon That Wasn't, she banded together with her running team and spent race day in Staten Island helping displaced New Yorkers. 
Williams and about 20 others piled food, clothing and supplies into four cars and crossed the Verrazano Bridge. They turned toward the shore and meandered through the neighborhoods off Hylan Boulevard, where help had yet to come. "I saw no Red Cross, I saw three guys in army fatigues and I saw dozens and dozens of runners," she recalled. While some members of the group worked clean up, Williams focused on distribution, finding people who needed what they had to offer. Some needed blankets and coats, others looked for bleach and garbage bags, one gentleman simply asked her for a hug.
"I hope that somewhere down the road I can feel like all that training, all that pain, all that time, gave me a reason to be in Staten Island after the hurricane," she said empathetically. "We're all neighbors right now and all we have to do is pitch in for each other." 
Running a marathon, for Williams, had always represented more than just an athletic feat. In one respect, it would be a decisive victory in the war being waged against her by her own cells, which she appears to be winning. After the shattering news that her cancer had metastasized to her lung, she was fortunate to qualified for a phase 1 clinical trial. This past January, three months into the trial, she got some good news. Her cancer was gone. As she poignantly wrote then in a column for Salon, where she has detailed her medical journey, "People with metastatic, Stage 4 melanoma rarely get happy endings. They usually just get endings."
On the other hand, it was about giving back, by raising money and awareness for the organization that had helped her and her two daughters, ages 8 and 12, through the toughest of times. "I was running for one cause, and ultimately even though I didn't do 26 miles, I wound up on that day doing what I wanted to do in the first place, which was doing service," she said. "I can really appreciate that, even within the disappointment of it."
Williams entered into the lottery for last minute entry into next week's Philadelphia marathon. While she knows some runners that quickly joined charity teams in Philadelphia, Williams opted not to. "I was running for Gilda's Club because Gilda's Club was so personally important to me," she said. "It was so tied to my cancer, I didn't want to just sign up for the race to cure whatever, just so I could get in a marathon." 
Mary Elizabeth Williams embodies an irrepressible cocktail of moxie, hope and empathy. One that won't let a race cancellation prevent her from reaching her finish line. If Philadelphia doesn't work, she knows she'll run New York next year. She can't help but sniff out the silver lining, for instance on her cancer: "If I never did anything else in my life my, cells are part of a study that's, I think, going to change how we treat cancer." While before the race, Williams lamented not being able to raise more money for Gilda's Club, she now wishes she could do more in Staten Island and intends to go back. "We all go through storms, whether it's a very real one blowing down your house, or a metaphoric one," she said a few days after her first trip to Hylan Boulevard. "I got into this experience because of a storm in my life, because I had cancer. All we've got is how we connect to each other and how kind we are to each other."