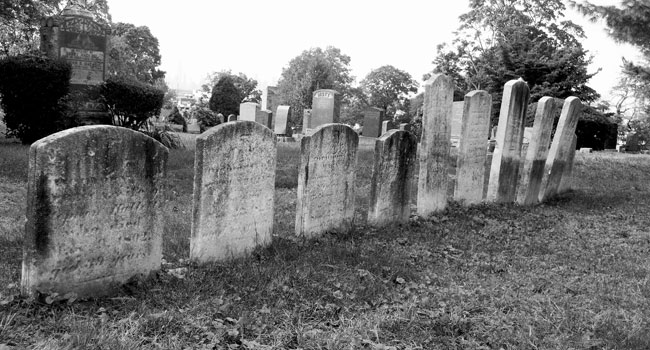 *As published in the June issue of Astoria Life
I was sitting at a bar when I learned about the tabloid fodder – Murder! Scandal! Insanity! – enmeshed deep in the roots of my two neighborhoods.
Born and raised in Maspeth, I moved to Astoria nearly two years ago. A few months in, I found myself drinking alone at William Hallet, an American bistro on 30th Avenue with a comfort food menu – turducken sandwich with bacon and bourbon ketchup, suckling pig with yam cakes and collard greens – and commendable beer list. Don't get the wrong idea though. I was meeting someone, and I sipped a dark stout as I waited.
The interior décor was part speakeasy-retro with a modern Victorian twist – vintage typewriter, filigreed wallpaper and swinging doors like an old saloon. The pipe in the corner was coiled half-way up with a fraying rope and the sign out front was written in an elegant script, with a gentlemanly silhouette. Sipping my Mother's Milk Stout, I got to thinking about who William Hallet was.
Bored, idle of mind and armed with a smartphone, I had an answer in minutes. It turned out that William Hallett (spelled with two t's) was one of the early settlers in the Queens area. His property was expansive, encompassing just about all of what is now Astoria.
I knew that along with Astor Place, Astoria was named after John Jacob Astor. But why not Hallettstown? Hallettonia, maybe? There wasn't even a street named after him to my knowledge. But as it turns out, the area was called Hallett's Cove before being re-branded Astoria (apparently in an effort to get Astor to invest here, he didn't). There is still a small nook of Queens, around Socrates Sculpture Park, bearing the name.
Eventually I traded the bar stool for the comfort of home, but my curiosity was piqued. William Hallett, born in 1616, left England for the colonies around 1648. He settled first in Connecticut, eventually departing for New Amsterdam, in what I would learn later was a great scandal. He acquired 150 acres on western Long Island which he eventually grew to about 2,200 acres – essentially all of modern-day Astoria. His first farm was burnt down by Indians a few years after he arrived.
As I dug deeper, one Hallett-related story kept coming up. In 1708, William Hallett III and his pregnant wife, along with their five children, were viciously murdered by two slaves. The slaves, an African woman and a Native American man, waited until the family was asleep before creeping in and butchering them with an ax. The woman, who some say goaded the man into the act, was burnt at the stake. The axeman was, as described in A History of Long Island, "hung in gibbets and placed astride a sharp iron, in which condition he lived some time; and in a state of delirium which ensued, believing himself to be on horseback, would urge forward his supposed animal with the frightful impetuosity of a maniac, while the blood oozing from his lacerated flesh streamed from his feet…" The sensationalized headlines practically write themselves.
Another common search result was far more recent. The Hallett property, having been parceled and sold off over centuries, still held the family graveyard, where rested the bones of many generations of Halletts. In 1905, those remains were relocated to Mount Olivet Cemetery, in Maspeth. Right in my old (figurative) back yard. When I was young I used to ride my bike through that cemetery for easy passage from Eliot Avenue to Grand Avenue. The century-old plaque on the family monument had become illegible through decades of weathering and oxidation, and I found an article from about a year ago touting its replacement. The Newtown Historical Society was there, but I was drawn to one tantalizing detail – the mention of a living breathing William Hallett. This modern-era Hallett is an 11th-generation direct descendent of the man himself.
A few days later I went to Mount Olivet. As I entered the gates visions of zombies danced around my head, the opening scene of Night of the Living dead having forever skewed my perception of cemeteries. I made a mental note to re-watch it when time allowed. I had no idea where to go, so I popped into the office, the imposing facade of which reminded me of Phantasm. I made another mental note to stop seeing the world in terms of pop-culture. And also, to watch Phantasm again.
The cemetery staff was helpful. The man in charge chatted me up as his colleague thumbed through an old binder, with pages brittle and yellow and probably older than I am. I marveled at the lack of technology and smiled at the quaintness. He produced a thin binder of his own. "This is the Hallett genealogy," he said. There were copies of land grants, newspaper articles and various other documents regarding the Halletts. Some of them copies of hand-written originals, in large, looping cursive.
In the meantime, the lady was nice enough to highlight the path on a map of the cemetery. "If you get to the mausoleum, you went too far," she smiled, and turned back to her desk. "I'm here til 3:30 if you have any trouble." As I made for the door, I heard a strange yet familiar clacking behind me. She was using a typewriter.
It was a beautiful day to be in a cemetery. The air was brisk and the leaves, burnt by autumn, trembled in the breeze. The scent of fresh cut grass hung in the air, and if I didn't know better, I'd never have guessed there was a construction crew and a dump truck just outside.
The main monument, probably twice my height, towered over its neighbors. The name was etc
hed in large block letters, HALLETT, below a little filigree. The front bore three names:
Samuel James Hallett
1824-1895
Catharine Carpenter Hallett
1824-1855
Emeline DeVeau Hallett
1835-1894
On the ground, leaning against the base of the large stone, sat a headstone from the original cemetery. It was the color of burnt pennies, and it read:
SACRED
to the memory of
SAMUEL HALLETT
who departed this life
September 1st 1817
Aged 56 years 5 Months
and 15 days.
In a neat row, behind it, a string of white, antebellum tombstones. Most of the inscriptions were unreadable, faded into an abstract beauty. The dates I could make out were all early 1800's. There was a convenient gap in the trees, and the Chrysler and Empire State Buildings loomed in the distance like cathedral spires.
The living scions of William Hallett are no doubt as far-flung as they are many – there are probably hundreds, many of whom may have no idea of their lineage – but the one I found is still in New York. A doctor in Long Island, he says that the Hallett presence in Astoria ended with his generation. He started a blog called "Descendants of William Hallett of Newtown, Long Island" as a way of putting all of his genealogical information out there, in the hopes of finding other Halletts who may be able to contribute more. And it has paid off; he has been contacted by Halletts from Maine, North Carolina and Nova Scotia who traced their own genealogy back to the first William Hallett and his wife Elizabeth.
When I spoke with him over the phone, he was animated and utterly fascinated with his long family history. He explained how he still possesses many of the original documents forming the historical record, including William Hallett's original last will and testament. And how have these documents lasted so long? "Luck!" he laughed. That, and the efforts of "family historians" like himself through the years. He has a leather-bound book, Hallett Family History inscribed on the cover, with all of these old papers tucked between the pages. He read me a favorite quote from William Hallett's will, wherein he was leaving his granddaughter "one pewter dish and one pewter candlestick, to be purchased with the money that her husband owes me." This, he says, really shows something about the type of man he was, stern, shrewd and fastidious.
I told him about my trip to the Cemetery to find the monument. The spot where the original graveyard was, he told me, is now a community garden called Two Coves. "The area where Mount Olivet Cemetery is, that area of Maspeth, is actually a very famous spot in Hallett family history," he continued. "William III had a farm basically right where Mount Olivet is. He and his wife were murdered by his slaves in the 1700s." The connective tissue of this one family stretched clear across Queens.
The modern-day Hallett lives in Sea Crest, Long Island. "If you drew a straight line from Astoria/Hallett's Cove to Sea Crest, what's it, about 15 miles? It's not really that far. Lets say from 1652, that's 360 years ago, so in 360 years we managed to move 15 miles?" he laughs.
Of all the family lore, he offered what he considers the most compelling story of the Halletts: that of William's wife, Elizabeth Fones Winthrop Feake Hallett. She was the niece of John Winthrop, the first governor of the Massachusetts Bay colony. His influence, unlike Hallett's, can still be seen today – from the town of Winthrop, Massachusetts to the Winthrop House at Harvard. She married her first cousin Henry Winthrop, who sailed to America to join his father and brother. He drowned shortly after his arrival. Elizabeth, who had stayed behind pregnant, was now a widow, but the Winthrops offered to take care of her and brought her to America. She later took up with Robert Feake, the wealthy son of successful goldsmiths. "So they think Elizabeth is going to be OK. Right?" Hallett says. "Not so right!" Not long after their marriage, Feake went insane. Elizabeth filed for divorce and Feake was shipped back to England, though he would eventually return to America to die penniless.
Elizabeth met and married William Hallett. She was pregnant with their first child when they realize that the English government, under the Anglican church, didn't recognize mental illness as grounds for divorce. Upon learning that the Halletts were living in sin, the townspeople of Connecticut demanded she be hung. According to Hallett, John Winthrop Jr., now himself governor of Connecticut, struck a deal with Peter Stuyvesant for the Halletts to flee to New Amsterdam. Under cover of darkness, leaving behind all of Elizabeth's property, she and William boarded a boat and sailed to Hell Gate.
Stuyvesant eventually made Hallett Sheriff of Flushing, before locking him away in prison for entertaining an episcopal minister. "The people all protest. They write back to the Dutch government and say 'What are you doing here? We thought that we came here because this was a more tolerant society.' This set the precedent for the Flushing Remonstrance and freedom of religion in America," Hallett said, describing the 1657 petition in which the citizens requested an exemption from Stuyvesant's ban on Quakerism, almost in awe of it all himself.
All of this, he points out, took place when Queens was nothing but wilderness. I can't imagine Queens as a wild frontier. It's like when you're a kid and you just can't picture adults ever being young. Even that day in the cemetery, where you could momentarily forget the rest of the world was out there, I still had that view of the distant skyline. Months later, I was in Astoria park and I tried to visualize it – no bridges, no buildings, only grass and hills – but I just couldn't see William Hallett's Queens. And I couldn't help wondering what he would think of mine.